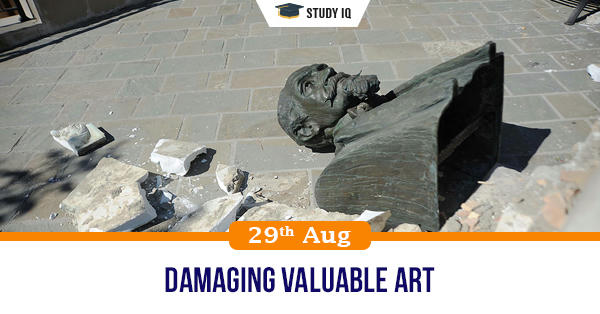 Damaging valuable art
Date: 29 August 2020
Tags: Miscellaneous
Issue
A student of architecture was sentenced to 18 months in jail earlier this week by a court in London for damaging a Picasso painting.
Background
Titled 'Bust of a Woman', the 1944 work depicts Picasso's well known muse, the photographer Dora Maar. The work is owned by a private collector, and has been loaned to Tate Modern since 2011.
Details
While art lovers were shocked after the incident, this isn't the first time that a valuable work of art has been vandalised.

One of the most closely watched art vandalism trials was that of the Russian Igor Podporin, who was charged with causing serious damage to Ilya Repin's famous late 19th century painting of the grief-stricken Ivan IV Vasilyevich.

In May 2014, a painting by the American abstract expressionist master Mark Rothko was put back on display at Tate Modern after 18 months of restoration work.

The painting was vandalised by a Polish man named Wlodzimierz Umaniec who, on October 7, 2012, painted the words 'A Potential Piece of Yellowism' in a corner.

The Monalisa has been attacked multiple times. Most recently, a Russian woman who was angry at having been denied French citizenship, threw a coffee mug at the painting in 2009.

The first of the recent attacks on the masterpiece happened in the winter of 1956, when a homeless man threw a rock at it, apparently because he wanted to go to prison so he would get a warm bed.

Only a few months previously, acid had been thrown at the lower part of the painting when it was being shown in a museum in Montauban, France.

Then in 1974, a woman with disabilities sprayed the work with red paint while it was on display at the Tokyo National Museum.

Prior to this, at the Sao Paulo International Biennial in 1996, a painting from Andy Warhol's 1977 Torsos series, which featured male and female nudes, was kissed by a Brazilian woman.