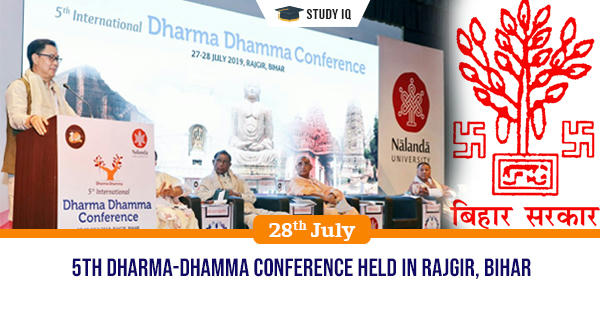 5th Dharma-Dhamma conference held in Rajgir, Bihar
Date: 28 July 2019
Tags: Miscellaneous
5th International Dharma-Dhamma conference was held at International Convention Centre in Rajgir, Bihar from 27 to 28 July 2019. It was inaugurated Union Minister of State Kiren Rijiju who was also its Chief Guest. It was hosted in Rajgir for second time, which also had hosted previous fourth edition of conference. Dharma-Dhamma conference being hosted by India benefit international community as well and also act as platform for Hindu and Buddhist thinkers to express their views.
About 5th International Dharma-Dhamma conference
Objective:

To address people about terror, violence and global warming prevalent in world. It was also aimed to addresses subjects of Sat-Chit-Ananda and Nirvana Dharma-Dhamma Tradition which are pivotal topics of Buddhism.

Organised by:

Nalanda University (NU) in collaboration with New Delhi's Centre for Study of Religion and Society-India Foundation (CSRS-IF).

Guest of Honour:

Gamini Jaiwickrama Perera (Sri Lanka's Home Minister), Lyonpo Sherub Gyeltshen (Bhutan's Home and Culture Minister) and Awadheshananda Giri Ji Maharaj (Acharya Mahamandaleshwar of Juna Akhara).

Participants:

It had seen participation of around 250 scholars and delegates from over 15 countries are participating in Conference.