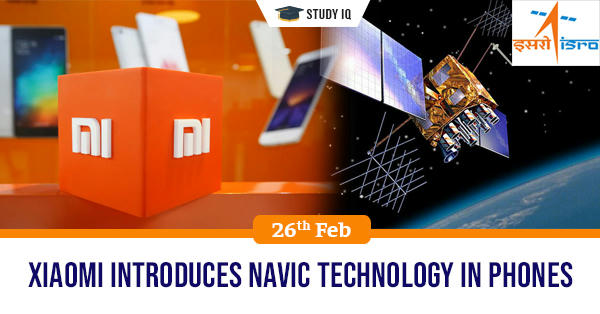 Xiaomi introduces NAVIC technology in phones
Date: 26 February 2020
Tags: IT, Mobile & Computers
Issue
Smartphone and smart TV brand Xiaomi has announced it would bring ISROs Indian Regional Navigation Satellite System NavIC technology to its smartphones.
Background
Navigation with Indian Constellation (NavIC) is the regional geo-positioning system designed in the country by the city-headquartered Indian Space Research Organisation (ISRO) to provide accurate positioning in India and 1500 km around the Indian mainland.
Details
The capability has been currently enabled by Qualcomm Technologies Inc on several of their Qualcomm Snapdragon Mobile Platforms and will be made available across multiple Xiaomi smartphones in India.

Some of the key consumer applications of NavIC for mobile include precise location mapping in remote, difficult to access areas, precise timing, along with visual and voice navigation for drivers among others.
NAVIC
The Indian Regional Navigation Satellite System (IRNSS), with an operational name of NAVIC] is an autonomous regional satellite navigation system that provides accurate real-time positioning and timing services.

It covers India and a region extending 1,500 km around it, with plans for further extension. The system currently consists of a constellation of seven satellites, with two additional satellites on ground as stand-by.

NAVIC will provide two levels of service, the "standard positioning service", which will be open for civilian use, and a "restricted service" (an encrypted one) for authorised users (including the military).

The constellation consists of 7 active satellites. Three of the seven satellites in constellation are located in geostationary orbit (GEO) and four in inclined geosynchronous orbit (IGSO).

The system was developed partly because access to foreign government-controlled global navigation satellite systems is not guaranteed in hostile situations, as happened to the Indian military in 1999 when it was dependent on the American Global Positioning System (GPS) during the Kargil War.
Other navigational satellite systems
Global Positioning System (GPS): USA

Galileo: European Union

QZSS: Japan

BeiDou: China

GLONASS: Russia