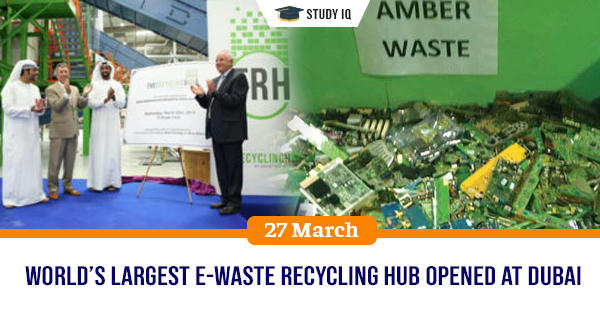 World's Largest e-waste Recycling Hub opened at Dubai
Date: 27 March 2019
Tags: IT, Mobile & Computers
The world's largest e-waste recycling facility was opened in Dubai, United Arab Emirates (UAE). It is located at Dubai Industrial Park on area of 280,000 square feet. It has been set up by "Enviroserve' company with support of Swiss Government Export Finance Agency. It will service international e-waste recycling efforts across Africa, Middle East and Caucasus region.
Dubai's e-waste recycling facility
It will recycle Waste Electrical and Electronic Equipment (WEEE), Information Technology asset disposition (ITAD), refrigerant gas and specialized waste.

It has processing capacity of 100,000 tonnes of total integrated waste (per year), of which 39,000 tonnes is e-waste.

It utilises state-of-the-art reclamation technology, which surpasses European Union's standards for e-waste.

It can process the entire range of end-of-life WEEE ranging from consumer and industrial to commercial and military appliances,

These include air conditioners, computers, batteries, household appliances, mobile phones, and even military avionics.

It will also recycle specialised waste material such as aerosol cans, light bulbs and FMCG products.