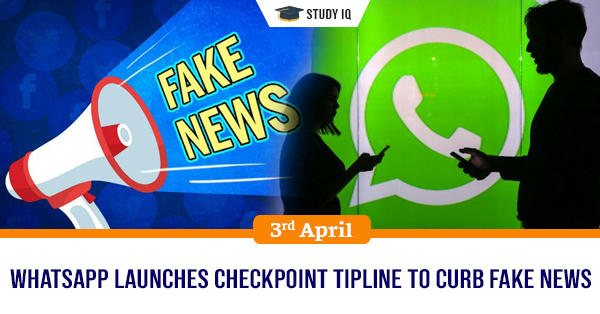 WhatsApp launches Checkpoint Tipline to curb fake news
Date: 03 April 2019
Tags: IT, Mobile & Computers
Facebook owned messaging platform WhatsApp has launched Checkpoint Tipline, an India-focused fact-checking feature to combat fake news, rumours and misinformation. It has was unveiled starting with run-up to 2019 Lok Sabha elections.
Checkpoint Tipline
It has been developed in collaboration with India-based media skilling startup PROTO.

Using this feature, users can report uncertain information or rumours they have received to WhatsApp number (+91-9643-000-888) and check its authenticity.

Once user shares suspicious message with tipline, Proto's verification centre will respond and inform user if the claim made in message shared is verified or not.

The response will indicate if information is classified as 'true', 'false', 'disputed', 'misleading' or 'out of scope' and include any other related information.

Using it, WhatsApp will review pictures, video links or texts in Hindi, Telugu, Bengali, Malayalam and English.

It will also help create database of rumours during elections to study misinformation during elections as part of Checkpoint, a research project commissioned and assisted by WhatsApp.
Background
India is the biggest WhatsApp market in the world with over 200 million users. In recent times had faced criticism and notices from Government of India for not being able to check spread of fake news and helping in tracing the origin of such messages.

Since then it has taken numerous inhouse measure to curb spread of fake news including restricting forwarding messages to five chats at once. It has also been putting out advertisements in newspapers and running television and radio campaigns offering tips to users on spotting misinformation.

However, WhatsApp so far has resisted Government's demand for identifying message originators, arguing that such move will undermine end-to-end encryption and private nature of the platform, creating potential for serious misuse.