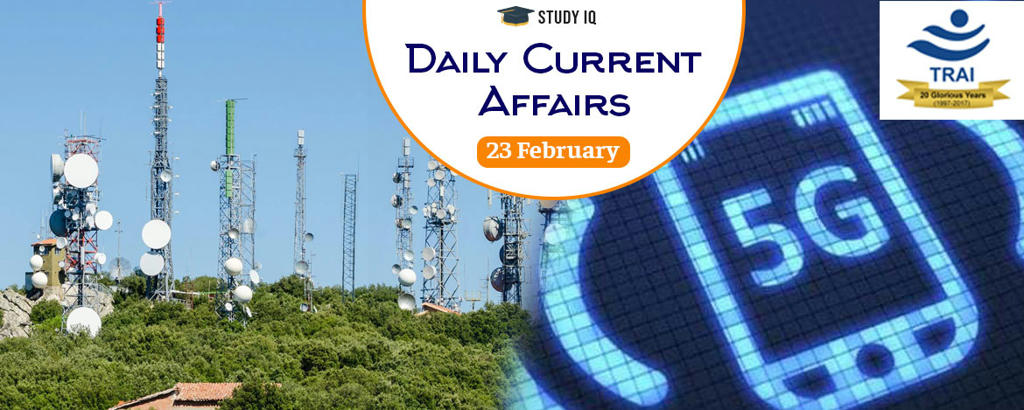 TRAI released white paper on Enabling 5G in India
Date: 23 February 2019
Tags: IT, Mobile & Computers
Telecom Regulatory Authority of India (TRAI) has released white paper on 'Enabling 5G in India'. It calls for combined effort by industry players and regulators for timely roll-out of 5G services in India.
Union Government is aiming to launch 5G in India by 2020. It is expected that cumulative economic impact of next generation technology would be about $1 trillion by 2035.
Highlights of white paper
There should be no regulatory or licensing barrier on path of adoption of newer and better technologies, rather, licensing and regulation framework should be enabler in fostering newer technologies.

5G will enable new capabilities and use cases, which were set to impact not only consumer services but also many industries.

Operators with existing 4G footprints will be able to leverage their 4G infrastructure for providing 5G services and hence, their investment requirement would be relatively lower.

The traditional offerings based on connection speed and volume of usage could see a shift as range of 5G use cases across industry verticals requiring different characteristics.
5G
It is latest wireless communication technology based on third-generation partnership project (3GPP). It succeeds 4G (LTE-A, WiMax), 3G (UMTS, LTE) and 2G (GSM) systems.

It will offer far greater upload and download speed i.e. 100 times faster internet data speed than current 4G networks.

It unique feature are high data rate, reduced latency, energy saving, cost reduction, higher system capacity and massive device connectivity.

It will expand broadband wireless services beyond mobile internet to IoT and critical communications segment and cater high speed network connectivity for augmented reality (AR)/virtual reality (VR).