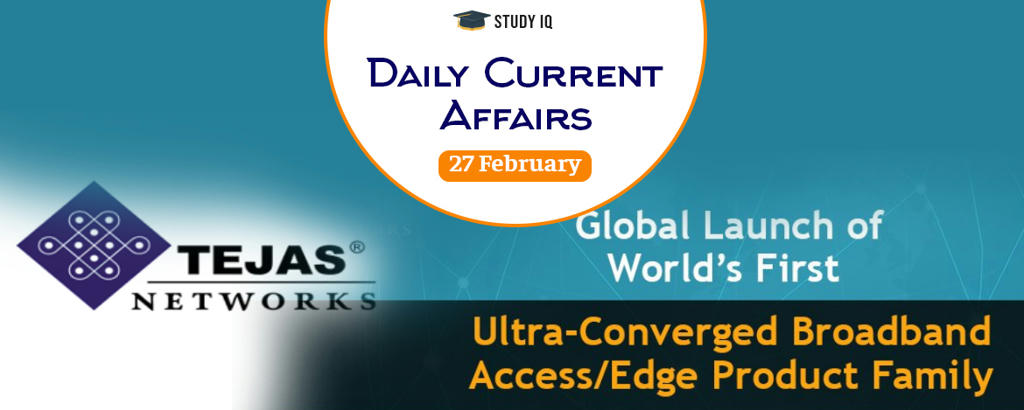 TJ1400: India's Tejas Networks launches World's First Ultra-Converged Broadband Product
Date: 27 February 2019
Tags: IT, Mobile & Computers
India's Tejas Networks has launched world's first ultra-converged broadband product family - TJ1400 that can deliver wireline as well as wireless broadband services from a single integrated platform. It was unveiled at Mobile World Congress (MWC) held in Barcelona, Italy.
TJ1400 ultra-converged broadband product family
It provides unmatched integration of multiple broadband access technologies: fixed wireless broadband (4G/LTE eNodeB upgradable to 5G), gigabit fiber broadband (GPON/NG-PON) and GE/10GE/100GE Business Ethernet services (CE2.0 certified) in highly compact, modular and energy-efficient platforms.

It also converges advanced packet transport technologies including OTN, Carrier Ethernet, PTN/MPLS-TP and IP to serve as unified delivery platform for wholesale, mobile backhaul, enterprise and residential broadband services.
Benefits
It provides highest flexibility to any operator wanting to quickly and cost-effectively roll out broadband services on fibre as well as wireless.

It efficiently packs unrivalled mix of broadband access and packet transmission features in smallest possible footprint.

This efficient packing significantly helps in lowering the cost of rolling out high-speed broadband networks in terms of both capex and opex.

It will help India to meet its stated objective of becoming global telecom equipment hub, especially in new 5G world.
Tejas Networks
It is Bengaluru-based optical and data networking products company. It develops and sells high-performance, cost-competitive networking products to telecommunications service providers (TSPs), internet service providers (ISPs), utilities, defense and government entities in over 70 countries. It is ranked among top-10 suppliers in global optical aggregation segment.