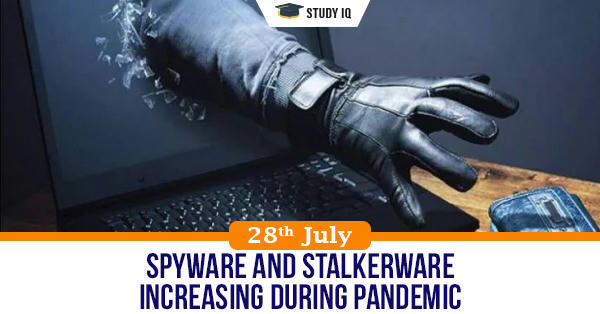 Spyware and stalkerware increasing during pandemic
Date: 28 July 2020
Tags: IT, Mobile & Computers
Issue
Global cyber-security leader Avast has warned that there was a 51 percent increase in the use of spyware and stalkerware during the lockdown period from March to June.
Details
Spy and stalkerware apps, like viruses and other malware, infect devices that are connected to the internet. While viruses and malware can be detected by anti-virus software, spyware and stalkerware apps disguise themselves as useful and send out stolen data to central servers without the knowledge of the users.

Ironically, most spyware and stalkerware apps disguise themselves as anti-theft applications that can be used to track in case the device is stolen or gets lost, cyber-security experts warn.

A spyware app, which can also be installed remotely, accesses the data usage pattern of the device, gains access to photos and videos as well as other personal information of the user, and then passes it off to a central server.

On the other hand, a stalkerware app can be installed only when someone has physical access to the digitally connected device.

Though the app works in a manner similar to spyware apps, it goes a step ahead and also gives out the location of the device to a master device which controls the stalkerware app.

Most stalkerware apps work in stealth mode with no trace of the app having ever been installed. Once installed, such apps can allow the master device to control, intercept, and even change your emails, text messages and your communication on social media platforms.

Stalkerware apps seek explicit permissions at the time of their installation. Once the app is installed in the phone, it can be hidden from the apps menu into the background, from where they continue functioning.