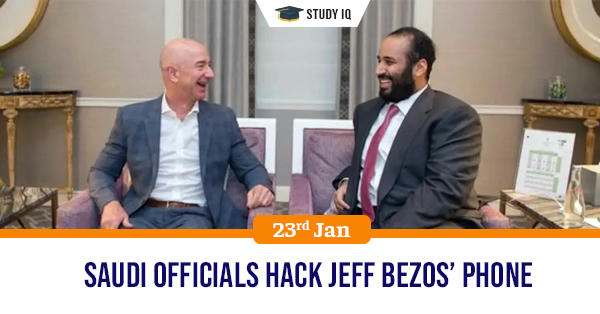 Saudi officials hack Jeff Bezos' phone
Date: 23 January 2020
Tags: IT, Mobile & Computers
Issue
A malicious file attached to an encrypted video message sent on WhatsApp is believed to have been used in hacking Amazon founder and CEO Jeff Bezos's iPhone. The sender of the message was Crown Prince of Saudi Arabia Mohammad bin Salman.
Background
A forensic analysis of Bezos's phone showed that it was compromised via the WhatsApp message.
Details
A United Nations report confirmed the hacking and provided extensive forensic details. It said Bezos was subjected to intrusive surveillance via hacking of his phone as a result of actions attributable to the WhatsApp account used by Crown Prince Mohammed bin Salman.

The report linked the break-in to criticism of the Saudi regime and Prince Mohammad personally by The Washington Post, the media organisation that Bezos owns.

The report has concluded the Pegasus spyware developed by the Israeli firm NSO Group was most likely used in the hacking.

Pegasus was used last year to target some 1,400 devices in 20 countries across four continents, including at least two dozen academics, lawyers, Dalit activists, and journalists in India.

Bezos had written a blog post alleging he was being blackmailed by David Pecker, the CEO of American Media Inc (AMI), which owns the tabloid The National Enquirer.

A security expert hired by Bezos to investigate the blackmail explained that the blackmailing data were likely obtained illegally from Bezos's phone, and that the Saudis were responsible.
Pegasus spyware
It is a spyware that can infect both Android and iOS phones. It is usually deployed by sending a specially created link to the target device. Once deployed, the hacker has complete access to the data on the victim's phone.

The spyware can be used to monitor the device, and even turn on the camera and microphone to eavesdrop on targets.

All data collected from the device are sent back to the NSO Group's Pegasus servers. NSO has in the past claimed its software is only licensed to law enforcement agencies, and not used to spy on users.

It is believed that the cost of a license for Pegasus is exorbitant enough to ensure that only governments are customers.