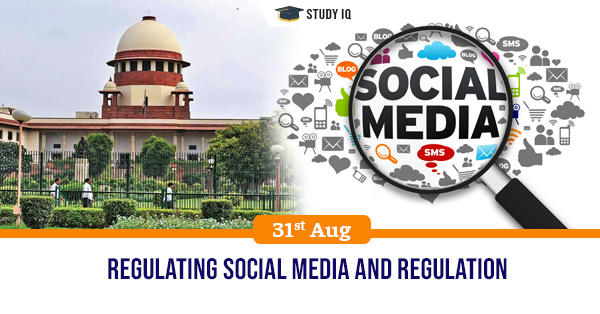 Regulating social media and Regulation
Date: 31 August 2019
Tags: IT, Mobile & Computers
Issue
The Supreme Court recently stressed the need to find a balance between the right to online privacy and the right of the state to detect people who use the web to spread panic and commit crimes.
Background
There has been a surge in the use of messaging apps such as WhatsApp. At the same time, there has been an increase in fake news and rumour-mongering leading to lynchings. The relation between fake news and socila media usage is unprecidented.
Details
Fake news is not something that has been catalysed in the digital age alone instead it has been a long-standing problem.

The problem has been not restricted to India alone instead it has been discovered in places like Hong Kong too. Instances where state-sponsored elements were perpetrating fake news and sophisticated disinformation campaigns against protesters in Hong Kong has been found.

Companies like WhatsApp has been trying to resist this idea of message traceability, it is also trying to maintain the integrity of the platform.
Social Media and Fake news
WhatsApp has tried to limit forwards to five people and the norm has been tested. It has been piloted in other parts of the world as well.

Fact propagators, fake news busters have been used to clear the myths by tracing origin of fake messages. Habitual and intentional acts are to be seriously punished.

Explosive growth in regulatory guidelines have been initiated. These guidelines from the government have been trying to enhance the agency of the government over technology companies.
Social Media
Social media are interactive computer-mediated technologies that facilitate the creation and sharing of information, ideas, career interests and other forms of expression via virtual communities and networks.
Importance of Social Media
Social media are not just used for the purpose of messaging. They are, for many people, information discovery platforms.

Retailers who use social media as an integral part of their marketing strategy usually see measurable results.