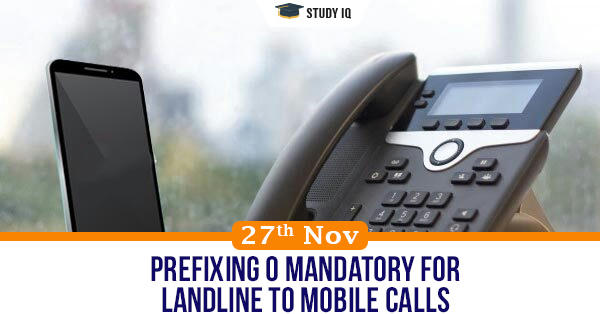 Prefixing 0 mandatory for landline to mobile calls
Date: 27 November 2020
Tags: IT, Mobile & Computers
Issue
The department of telecommunications (DoT) has made it mandatory to prefix 0 for all calls made from fixed lines to mobiles, effective 15 January.
Background
The Telecom Regulatory Authority of India's (TRAI) had in May recommended a '0' prefix for all such calls to create sufficient numbering space for telecom service providers.
Details
Dialling "0" mobile phone numbers was a practice followed by outstation callers. This was avoided after government allowed inter-circle mobile number portability.

India has 10 digits mobile numbering plan with "0" and "1" reserved for special purposes. This means that effectively 800 crore combination of mobile numbers are possible.

The numbers in "9" series have all been used. To distinguish these mobile numbers from certain landline numbers having 10 digits code, prefixing has been made compulsory.

TRAI has also recommended that all 10 digit numbering code to be shifted to 13 digit code for M2M communication.

The decision to add prefix will not only clear the overlap between landline and mobile number carrying the same series but also free up numbering resources for mobile phones in future.
TRAI
The Telecom Regulatory Authority of India (TRAI) is a statutory body set up by the Government of India under section 3 of the Telecom Regulatory Authority of India Act, 1997. It is the regulator of the telecommunications sector in India.

It consists of a Chairperson and not more than two full-time members and not more than two part-time members.

The TRAI Act was amended by an ordinance, effective from 24 January 2000, establishing a Telecom Disputes Settlement and Appellate Tribunal (TDSAT) to take over the adjudicatory and disputes functions from TRAI.

One of its main objectives is to provide a fair and transparent environment that promotes a level playing field and facilitates fair competition in the market.

TRAI regularly issues orders and directions on various subjects such as tariffs, interconnections, quality of service, Direct To Home (DTH) services, and mobile number portability.