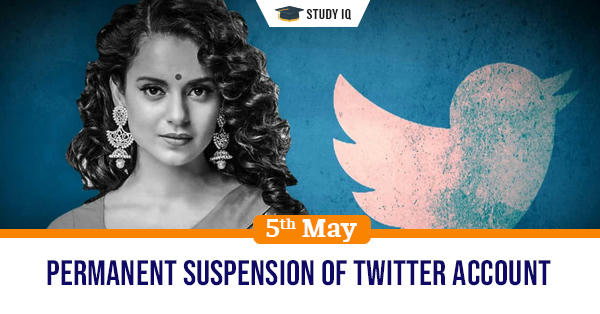 Permanent suspension of Twitter account
Date: 05 May 2021
Tags: IT, Mobile & Computers
Issue
Bollywood star Kangana Ranaut's Twitter account has been permanently suspended by the company for violating their policy.
Background
Twitter has been under tremendous pressure by the authorities for failing to act on rogue elements trying to create disturbances.
Details
Twitter has said that Kangana's account was suspended for repeated violation of Twitter's Hateful Conduct policy and Abusive Behaviour policy.

This is not the first time twitter had suspended accounts permanently. Former US President Donald Trump's account was also allegedly suspended for his role in Capitol Hill violence.
Permanent suspension
It is considered the strictest action taken by the company. The account will not be visible for global view and creation of new account will not be allowed.

Twitter will inform the user before it enforces its actions. The policy that has been violated by the individual will also be explained.

Individual violators have the right to appeal against the decision of the company and they can do so through a report.
Other powers to control
Twitter can hide tweets for a particular country if it feels they are abusive. Their reach can also be controlled.

It also has powers to limit the account's ability to tweet, like and re-tweet content. This is however applicable to accounts that are usually healthy.

Twitter can also ask users to verify their account using email or phone number. This can help them in identifying anonymous abusers operating multiple accounts.