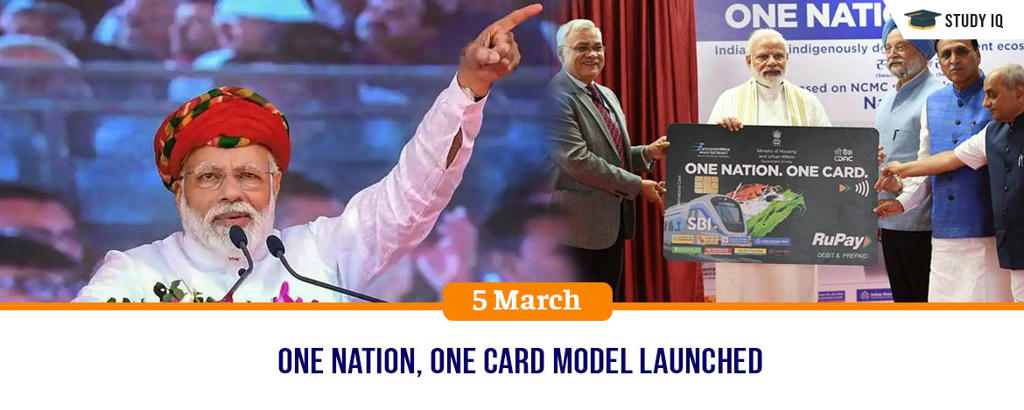 One Nation, One Card Model launched
Date: 05 March 2019
Tags: IT, Mobile & Computers
Prime Minister Narendra Modi launched 'One Nation, One Card' Model from for seamless travel through different metros and other transport systems. Under this model, India's first indigenously developed payment eco-system for transport mobility consists of:
National Common Mobility Card (NCMC)

Swachalit Kiraya: Automatic Fare Collection System (SWEEKAR)

Swachalit Gate (SWAGAT) based on NCMC Standards.
These three indigenously developed components of payment eco-system for transport mobility together will enable use of national mobility card across country without conflict with existing point-of-sale (PoS) machines.
One Nation, One Card Model
NCMC:

It is indigenous automatic fare collection system based on One Nation One Card Model in introduced by Union Ministry of Housing and Urban Affairs.

It is the first of its kind indigenously developed inter-operable transport card/ payment platform in India.

It can be issued by all public and private banks the same way credit, debit, and prepaid cards are issued

It will allow customers to use single card for payments across all segments including metro, bus, suburban railways, toll, parking, smart city across country besides retail shopping and purchases.

Benefits:

Its super-quick, contactless transaction feature will help to improve seamless travel experience.

This card supports various service area features such as monthly passes, season tickets, etc.

It also offers value proposition for customers as they need not to carry multiple cards for different usage

Moreover, stored value in it supports offline transaction across all travel needs with minimal financial risk to involved stakeholders.

It automates the fare collection system and eliminates need to carry change and cash while travelling in metro, bus or train, or for toll and parking.
Background
NCMC was envisaged as part of National Urban Transport Policy (NUTP), 2006 by Union Ministry of Housing and Urban Affairs (MoUHA).

MoUHA also had committee in 2014 with representatives from National Informatics Centre (NIC), National Payment Corporation of India (NPCI), Centre for Development of Advance Computing (C-DAC), Bureau of Indian Standards (BIS) and Ministry of finance to develop NCFC ecosystem.

This committee had recommended an EMV-based (chip-based) Open Loop Card. These are bank-issued single card on Debit/Credit/Prepaid card product platform that can be used for payments across all segments.

Later it January 2019, MoUHA had launched pilot project for the NCMC with Delhi Metro Rail Corporation (DMRC). The first-level trials were successfully completed in collaboration with CDAC, BEL, NPCI, and State Bank of India,
Role of other agencies
NPCI:

It has developed specifications for card to support NCMC ecosystem.

C-DAC

: It has finalised NCMC specification for AFC system including interface with bank servers. It had worked in collaboration with NPCI for this.

Bharat Electronics Limited (BEL):

It had designed and developed gates and reader for these cards. It makes BEL first company in India to developed such gate and reader.