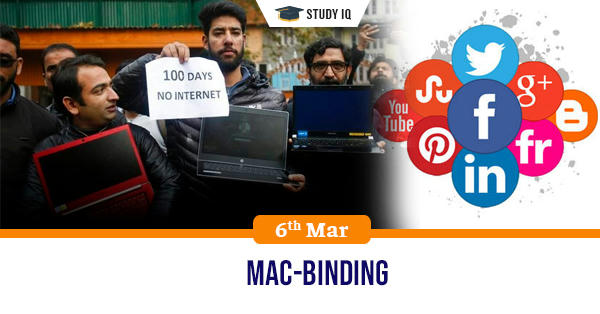 Mac-binding
Date: 06 March 2020
Tags: IT, Mobile & Computers
Issue
After seven months, the use of social media was allowed in Jammu and Kashmir with rules for the use of Internet. Among various conditions, internet connectivity will be made available with "mac-binding".
Background
The easing of restrictions came after the Supreme Court on January 10 asked for a review of all orders suspending Internet services forthwith.
Details
Every device has a Media Access Control (MAC) address, a hardware identification number that is unique to it. While accessing the Internet, every device is assigned an IP address.

Mac-binding essentially means binding together the MAC and IP addresses, so that all requests from that IP address are served only by the computer having that particular MAC address.

In effect, it means that if the IP address or the MAC address changes, the device can no longer access the Internet. Also, monitoring authorities can trace the specific system from which a particular online activity was carried out.

Internet speed in Jammu and Kashmir is still restricted to 2G. This means very slow services, pictures will take a long time to be sent or downloaded, videos will be nearly impossible to share, and there will be a long loading time for most websites.

The Internet can be accessed on all postpaid devices, and those using Local Area Networks (LAN). While the postpaid SIM card holders shall continue to be provided access to the Internet, these services shall not be made available on prepaid SIM cards unless verified as per the norms applicable for postpaid connections.

It also means that although in theory, the "whitelist system", where people could only access some websites pre-approved by the government, has been removed, some sites designed for a 4G Internet experience will hardly work.