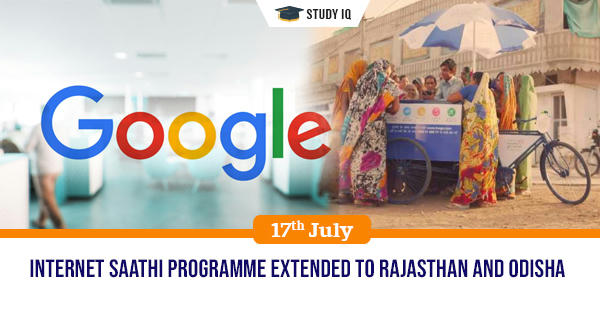 Internet Saathi programme extended to Punjab and Odisha
Date: 17 July 2019
Tags: IT, Mobile & Computers
Google India and Tata Trusts' digital literacy initiative- Internet Saathi programme has been extended to Punjab and Odisha. With addition of these new two states, the programme is now active in 20 states, reaching to around 2.6 lakh villages across the country. In Punjab, the programme will cover around 5,000 villages and in Odisha it will cover 16,000-plus villages.
About Internet Saathi Programme
It was launched by Google India along with Tata Trusts as a pilot project in 2015 in Rajasthan. It was scaled up to cover 3 lakh villages across India in December 2015.

Objective:

It is digital literacy initiative aimed to educate rural women on how to use Internet. These women, in turn, impart training to other women in their community and neighbouring villages.

Achievements:

Since its launch, this programme has contributed towards bridging the digital gender divide in rural India (female to male ratio from 1 in 10 in 2015 to 4 in 10 in 2018). In the four-year journey, over 70,000 "Internet Saathis" are using Internet to drive positive change in their communities. About 70

%

of Internet Saathis believe they are seen as source of information in their village. It has led to level of independence that creates financial opportunities for women to pursue their dreams. 30% of Saathis have set up some form of business. This, in turn, has provided economic growth, with business often earning between Rs3,000 and Rs5,000 every month while five in ten Saathis have seen positive impact on employability.