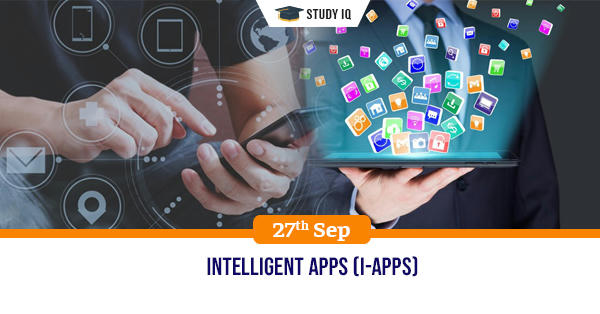 Intelligent apps (I-apps)
Date: 27 September 2019
Tags: IT, Mobile & Computers
Issue
Making use of historical and real-time datasets, I- app platforms are empowering the potential for hypotheses made by machines.
Background
Intelligent Apps are the applications which acquire real-time and historical data from user interactions and other sources in order to provide suggestions and make predictions.
Details
These apps are capable of converging database and data warehouse workloads, operating with Artificial Intelligence and machine learning.

Today's digital natives demand much more than simple mobile-enabled access to key business applications and data. They anticipate intelligent user experience and highly usable as offered by consumer apps. And, intelligent apps assure to provide the same.

Artificial intelligence is used in developing an intelligent application that is much sophisticated by having algorithms.It automates how much tasks to be performed.
Features of I-apps
I-apps work on a vast amount of data, it is able to read and store a vast array of human interactions.

It provides higher returns on investment.

It also allows users to do away with the need to use the business key.

I-app contributes to enhancing output, boost up response time.

apps have the ability to provide just the right information to do their current job in an effective manner.
Some examples of I-apps
Cortana- Asssistant app developed by Microsoft.
Google Allo – Specch to text output