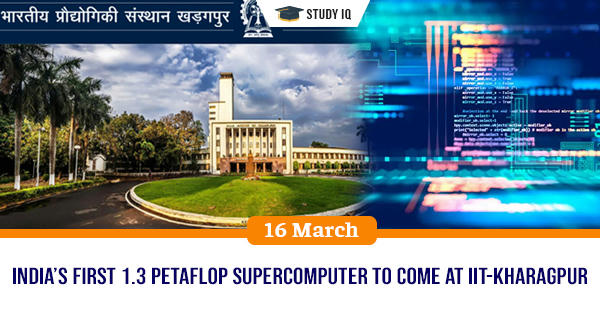 India's first 1.3 Petaflop supercomputer to come at IIT-Kharagpur
Date: 16 March 2019
Tags: IT, Mobile & Computers
Indian Institutes of Technology (IIT)-Kharagpur has signed (MoU with Centre for Development of Advanced Computing (C-DAC) to set up India's first 1.3 Petaflop high-performance computing (HPC) facility and data centre. This project will be under National Supercomputing Mission. C-DAC is an autonomous scientific society of Union Ministry of Electronics and Information Technology.
Uses of 1.3PF HPC facility
It will provide large-scale computational support to researchers engaged in research activities in diverse areas of national importance.

It will be used for specific challenge domains like cryptography, molecular dynamics, chemistry, drug discovery, artificial intelligence (AI) and data sciences.

It will accelerate and evolve level of research currently being done with manifold improvement in output and efficiency.
National Supercomputing Mission
It was launched in 2016 and is implemented jointly by Department of Science and Technology (DST) and Department of Electronics and Information Technology (DeitY).

It envisages installing vast supercomputing grid comprising of over 70 high-performance computing (HPC) facilities spread across the county for empowering national academic and R&D institutions

Supercomputers developed under it will also be networked on National Supercomputing grid over National Knowledge Network (NKN).

It also includes development of highly professional HPC aware human resource for meeting challenges of development of these applications.
Objective
Make India one of world leaders in Supercomputing and enhance India's capability in solving grand challenge problems of national and global relevance.

Empower scientists and researchers with state-of-the-art supercomputing facilities and enable them to carry out cutting-edge research.

Minimize redundancies and duplication of efforts in the country and optimize investments in supercomputing.

Attain global competitiveness and ensure self-reliance in strategic area of supercomputing technology.
Application areas of mission
Climate modelling, weather prediction, aerospace engineering including, computational biology, atomic energy simulations, molecular dynamics, defence/ national security applications, disaster simulations and management, seismic analysis, computational chemistry, discoveries beyond earth (astrophysics), computational material science and nanomaterials, large complex systems simulations and cyber physical systems, big data analytics. Finance and government information systems/ information repositories.