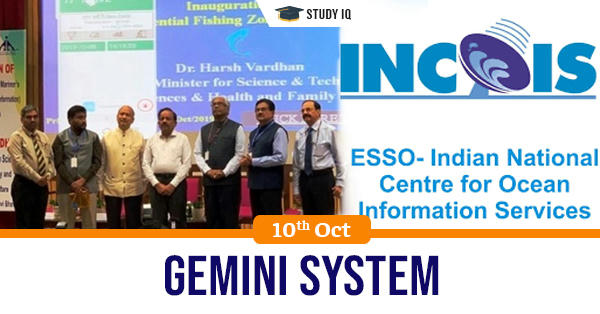 GEMINI system
Date: 10 October 2019
Tags: IT, Mobile & Computers
Issue
The government departments, research agencies and private companies have developed GEMINI, a portable receiver linked to ISRO-satellites, that is fail-proof and warn fishermen of danger.
Background
Fishermen away on fishing are cut off from communication services and face threats from disasters.
Mobile phone frequencies cannot be accessed 10-12 km beyond the coast and by using GEMINI this range can increase to 300 nautical miles.
Details
GEMINI is developed by The Indian National Centre for Ocean Information Services (INCOIS), along with Accord, a private company, to develop a box-shaped receiver that has an antenna and in-built battery that can last three to four days.

GEMINI works on GAGAN, developed by ISRO and the Airports Authority of India and is an India-made global positioning system and relies on the positioning system by ISRO's GSAT satellites.

When GEMINI is connected to an app, it also lets fishermen know the probability of fish-catch in the surrounding seas and provides ocean forecast.

Ocean State Forecasts include the forecasts on winds, waves, ocean currents, water temperature, etc. at every 6 hrs on daily basis for next 5 days helping fishermen in maximizing their earnings, ensuring safety and in planning of fishing activities.

With this device, fishermen outside the signal range of their phone companies can also access warnings and alerts.

The device only allows one-way communication as it can't be used by fishermen to make calls, for instance.

The devices are also relatively expensive for the average fisherman but attempts are being made to subsidise it by as much as 90%.