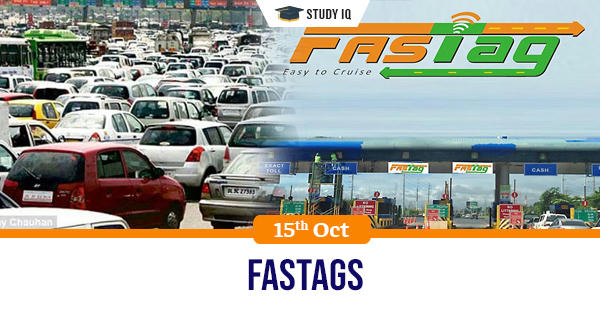 FASTags
Date: 15 October 2019
Tags: IT, Mobile & Computers
Issue
The government is planning to make FASTag the equivalent of Aadhaar for vehicles, which will allow the government to track their movement across the country.
Background
Tracking and identifying vehicles is a tedious task with large resources needed for implementing. Lack of CCTV identification cameras across places makes the process even more difficult. FASTag is expected to perform this duty effectively.
Details
A FASTag is linked to a bank account. When a vehicle passes through a toll, an SMS with date, time and place of transaction will be sent to the owner of the vehicle.

The master data of all transactions will be with the owner of the toll booth concerned, along with the bank with which the owner has registered the FASTag and the National Payments Corporation of India.

A FASTag uses Radio Frequency Identification (RFID) technology to make cashless payments through a prepaid account linked to it.

The tag is fixed to the windscreen of a vehicle and an RFID antenna in the canopy of the toll gate scans the QR code and the tag identification number, following which the boom barrier lifts to allow a vehicle to pass through it without the need for a vehicle to stop.
Advantages of FASTags
They are likely to reduce the nation's GDP loss by bringing down loss of fuel while waiting at toll plazas.

It reduces traffic jam and waiting period for travellers are toll gates, thereby making journeys free of hassles.
RFID technology
RFID uses electromagnetic fields to automatically identify and track tags attached to objects. The tags contain electronically stored information.

Passive tags collect energy from a nearby RFID reader's interrogating radio waves.

Unlike a barcode, the tags don't need to be within the line of sight of the reader, so it may be embedded in the tracked object.
Applications
RFID tag attached to an automobile during production can be used to track its progress through the assembly line.

RFID-tagged pharmaceuticals can be tracked through warehouses.

Implanting RFID microchips in livestock and pets enables positive identification of animals.