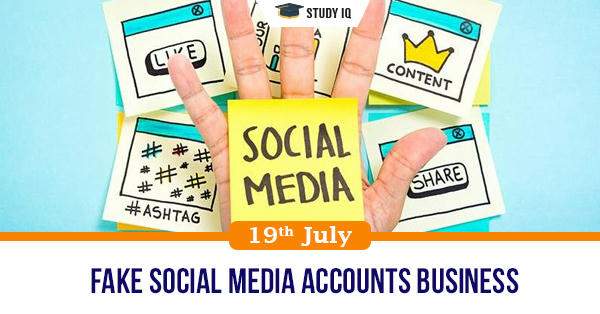 Fake social media accounts business
Date: 19 July 2020
Tags: IT, Mobile & Computers
Issue
The Mumbai Police earlier this week arrested a 20-year-old man for allegedly creating a fake profile of Bollywood playback singer Bhoomi Trivedi.
Background
The interrogation of the accused revealed that there are several such companies that sell followers and 'likes' on social media.
Details
Purported chat logs of a fake Instagram account created under the name of Bhoomi Trivedi that purported to show her in apparent negotiations for purchasing fake followers to lure more people to purchase followers.

It has revealed during investigation that there is a racket to create crores of fake identities on various social media platforms, and thereby produce fake performance statistics such as followers, comments, and views — all fake.

Accused had created more than 5 lakh fake followers for a total of 176 profiles on Instagram, TikTok, and Facebook, etc., in order to fraudulently project these profiles as those of 'influencers'.

A research had found that the top three markets with the largest numbers of fake accounts were the United States (49 million), Brazil (27 million), and India (16 million).

The researchers spoke to around 400 influencers, 60 percent of whom confirmed that they had bought followers, likes, or comments at some point.

Apart from just social media influencers whose high follower count could make them hot property for brand promotions online, services of these fake accounts or bots (software application that imitates human behaviour) are suspected to be used by political parties, celebrities, and in film promotions.

These companies use fake accounts to start trending a particular hashtag, for example, a movie's name before the release date.

This is going to be a challenge for the police since the use of these services is so widespread. Police have estimated that there are more than 100 such as Social Media Marketing (SMM) portals that provide fake followers.

In the absence of a specific law, police can take recourse to Section 468 of the Indian Penal Code, which deals with committing forgery of a document or electronic record for the purposes of cheating.

Social media platforms like Instagram have in the past deleted accounts that they suspected were using third-party apps to increase their follower count.