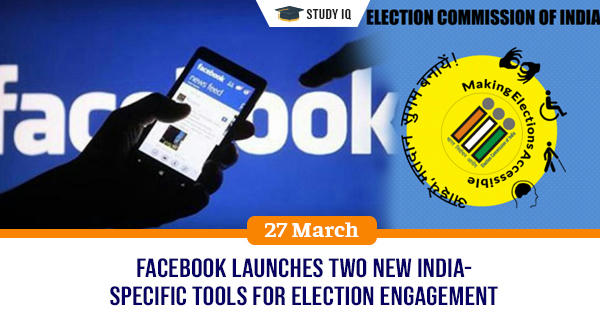 Facebook launches two new India-specific tools for election engagement
Date: 27 March 2019
Tags: IT, Mobile & Computers
Social-networking site Facebook launched two new India-specific tools-"Candidate Connect" and "Share You Voted" to boost civic engagement on its platform during the 2019 general (Lok Sabha) elections. Both new tools are available in 12 local languages across India.
Candidate Connect
It will help people learn more about candidates. It will let contesting candidates upload 20 second videos to introduce themselves and highlight how they will address outstanding challenges in their constituencies if elected to office. It will help people learn more about candidates contesting for Lok Sabha elections from their constituency
Share You Voted
It will provide people with polling information and enable them to announce and celebrate their vote. It will send out reminders to people on polling dates in their constituencies. It is aimed at amplifying the voting spirit.
It will also allow people to show that they voted on Election Day by uploading picture. These shared pictures from users will be aggregated and collage of friends will be prepared. This collage will be showed on the timelines of people connected to them in a video format.