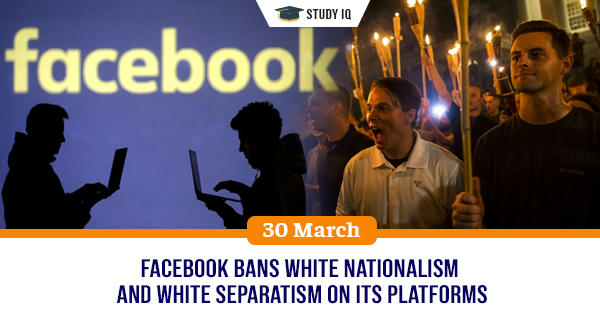 Facebook bans white nationalism and white separatism on its platforms
Date: 30 March 2019
Tags: IT, Mobile & Computers
Social media giant Facebook has banned praise, support and representation of white nationalism and white separatism on its platforms. This ban comes after recent Christchurch mosque shooting in New Zealand by white supremacist massacring 50 people in mosques by live streaming it on Facebook.
Facebook has long banned white supremacy under its rules on hateful content but did not previously consider white nationalist or separatist content to be explicitly racist. Now it is planning to start connecting people who search for terms associated with white supremacy and helping people leave hate groups.
Background
Social media giants Facebook, Twitter and YouTube have been under pressure to remove white supremacist and neo-Nazi content from their platforms, along with fake news and other types of abusive posts. Civil rights groups have also have criticized social media giants for failing to confront extremism on their platforms. Facebook initially was wary of infringing on broader concepts of nationalism and separatism, which it said are important part of people's identity. But now it has change its policy and helds that white nationalism and separatism cannot be meaningfully separated from white supremacy and organized hate groups.