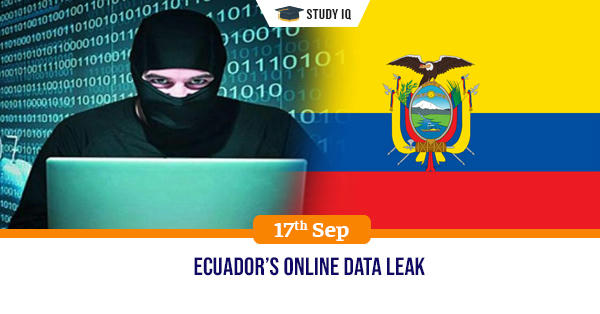 Ecuador's online data leak
Date: 17 September 2019
Tags: IT, Mobile & Computers
Issue
Almost the entire population of Ecuador had their personal data leaked online due to a massive breach from a private unsecured server.
Details
A security company vpnMentor has uncovered the breach on the server run by the firm Novaestrat, which included citizens' full names, dates and places of birth, education levels, phone numbers and national identity card numbers.

It is said that there was even data on the country's president and on Julian Assange, the Wikileaks founder who had obtained asylum in Ecuador embassy.
Data Theft
A data breach, or data leak, is a security event in which protected data is accessed by or disclosed to unauthorized viewers.
Methods of data theft
Cyber attacks — Hackers use malware, phishing, social engineering, skimming and related techniques to gain access to protected information.

Theft or loss of devices — Laptops, smartphones, thumb drives and other data storage media can be lost, stolen or disposed of improperly. If they contain protected information and it ends up in the wrong hands, that's a data breach.

Employee data theft or data leak — Employees, especially those who are departing soon, might deliberately access protected information without authorization with malicious intent.
Preventing data theft
Protection- Protecting your data by implementing appropriate safeguards..

Encryption- properly encrypted data will be useless for malicious actors; they won't be able to sell it or use it against you or the individuals whose data they stole.

Employee training and awareness- Properly training employees to handle threats posed by data attacks so that they can prevent further mishaps.