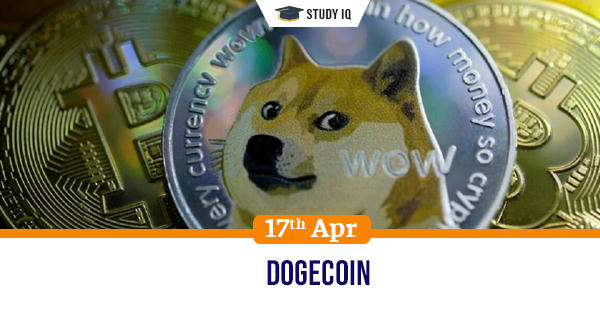 Dogecoin
Date: 17 April 2021
Tags: IT, Mobile & Computers
Issue
The Dogecoin virtual currency has undergone surge in its value. It was started as an internet parody in 2013.
Background
The cryptocurrency was based on the popular doge meme but has since seen its value grow by $ 20 billion over the last 24 hours.
Details
The cryptocurrency was valued at 28 cents which was double the value a day before. It has grown by 300 percent over a week.

The doge coin digital token was created by engineers as a faster and fun alternative to bitcoin.

It was meant to be a satire on several fraud crypto coins that had grown during this period. It derives its name and logo from Shiba Inu meme.

Bitcoins can have a maximum number of 21 million but dogecoin does not have a fixed number and it already has more than 100 million existences.
Rise of dogecoin
Virtual currencies such as Bitcoin and Etherem have surged over the last couple of days due to listing of Coinbase virtual currency exchange. Dogecoin is part of this growth.

Doge coin is strongly supported by Billionaire and Tesla CEO Elon Musk, who tweets regularly in its favour.
Concerns
Investors fear that the rise of doge coin is just temporary as people are trying to make quick money. This will impact long term investors.

Cryptocurrencies are highly volatile as they do not have intrinsic value such as land or gold. They may crash as fast as they rise.

They can be easily manipulated by a small group of investors who hold a large amount of crypto currency and can alter its value based on their need.