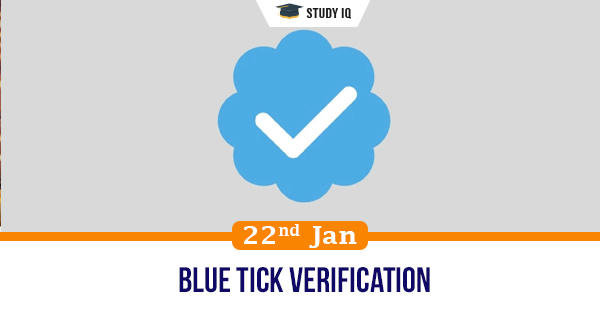 Blue tick verification
Date: 22 January 2021
Tags: IT, Mobile & Computers
Issue
Twitter accounts to get the coveted blue tick verification will be based on three factors--Authentic, notable and active.
Background
The process of blue tick verification will reopen January 22, 2021. It was paused since November 2017.
Details
Twitter stopped verifications on November 16, 2017, stating that the blue badge had caused a perception problem for them.

The verification mark was seen as an endorsement of some individuals by Twitter, which was not necessarily the case.

Twitter will have a new self-serve application process, available on the web and in-app. Users will be able to apply themselves to get verified.

They will have to choose a category for their verification status. They will have to share some links and other supporting materials to boost their cause in order to get the tick.

Twitter will use both automated and human review to handle the applications for verifications. It also said it will give users the option to share demographic information after completing the new verification application.

As part of the new policy, Twitter will begin automatically removing the verified badge from inactive and incomplete accounts.
Criteria for blue-tick verification
Twitter uses a mix of internal signals to evaluate the authenticity of a given account's followers and engagement count.

They also assess a range of signals associated with third-party public resources submitted in support of applications for verification to detect fraudulent submissions.

They still have the right to deny or revoke verification to any accounts, which met the criteria through artificial or inauthentic activity.

For an account to be considered active and complete, the user must have a profile name, a profile image. The earlier criterion of the header photo has been done away with.

A user should have logged into the account in the last six months showing active use in order to qualify for verification. The account must also be secure with a confirmed email address or phone number.

The account must have not have had a 12-hour or 7-day lockout for violating the Twitter Rules in the past six months.

Parody, newsfeed, commentary and fan accounts are not eligible for the blue badge. Twitter also does not verify pet accounts.
Category of users to be verified
Those working in the government, including heads of state, elected officials, ministers, etc.

Well-known companies, brands and organisations

News organisations and journalists

Entertainment

Sports

Activists, organisers, and other influential individuals.