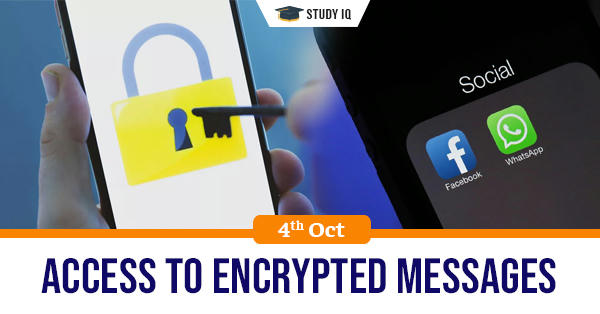 Access to encrypted messages
Date: 04 October 2019
Tags: IT, Mobile & Computers
Issue
Facebook and WhatsApp will be forced to share the encrypted messages of users with the British police, thanks to a treaty between the US and UK.
Background
The data will be required to support investigations into suspects of serious criminal offenses such as terrorism and pedophilia. The treaty is due to be signed next month.
Details
The UK and the US will not investigate each other's citizens under the accord.

Facebook opposed the move and said that the deal undermines privacy and security of its users everywhere.

Government policies like the Cloud Act will allow companies to provide available information when valid legal requests are made and do not require companies to ignore.
CLOUD Act
The CLOUD Act or Clarifying Lawful Overseas Use of Data Act, makes it easier for law enforcement agencies to demand online information.
Under the Act, the data stored in any country can be demanded by the agencies.
Indian Context
The ministry of home affairs (MHA) had issued a notification authorising 10 central agencies to intercept, monitor, or decrypt digital communications.

The government is seeking to propose amendments to the Information Technology (IT) Act. The new changes seek to trace and access "unlawful" online content.

The government stipulates that an online platform must comply with any "lawful order" to provide information or assistance within 72 hours of receiving it from any government agencies.

The amendments also require that encryption be broken to trace the origins of messages.
Implications
Asking companies to break end-to-end encryption would threaten user privacy and free speech.

This may pave the way for iron fisted approach by the government towards free speech and can ultimately lead to state imposed censorship.