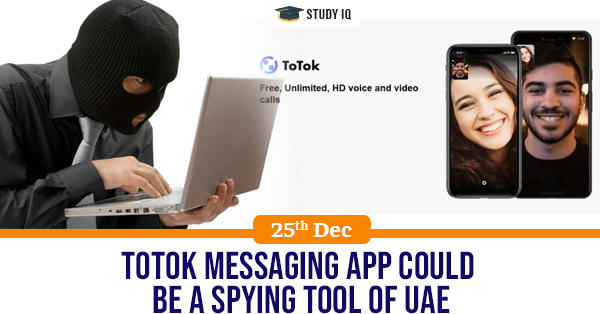 totok-messaging-app-could-be-a-spying-tool-of-uae
Date: 25 December 2019
Tags: IT, Mobile & Computers
Issue
ToTok, a chat and voice calling app that became available earlier this, is actually a spying tool, according to a United States intelligence assessment.
Background
The UAE has restricted popular messaging services like WhatsApp and Skype, and ToTok was billed as a "fast, free, and secure" way to chat by video or text message.
Details
ToTok is used by the government of the United Arab Emirates (UAE) to try to track every conversation, movement, relationship, appointment, sound and image of those who install it on their phones.

While the majority of its users are in the Emirates, the app has been downloaded throughout the Middle East, and in Europe, Asia, Africa, and North America.

According to recent Google Play rankings quoted by the report, it was among the top 50 free apps in Saudi Arabia, the UK, India, Sweden, and other countries.

The firm behind ToTok is Breej Holding, most likely a front company affiliated with DarkMatter, an Abu Dhabi-based cyberintelligence and hacking firm.

Google removed the app from its Play store after determining ToTok violated unspecified policies. Apple has also removed ToTok from its App Store. But users who have it installed in their phones can still use it until they remove it from their phones.