Zaberwan
Red Sea and Mediterranean Sea
Dushanbe
Name the capital of Turkmenistan.
Q.) Recently, a river was in news regarding suspended Mumbai Police officer Sachin Vaze. Name the river
Tanasa River
Mithi River
Dahisar River
Poisar River
Q.) Which nation has started air patrol over a rising Chinese vessels in South China Sea?
Taiwan
Brunei
Indonesia
Philippines
A Plot Against The Poor | ToI
G7 is now thinking about making the world's poor pay for climate change.
By the end of the 1800s, human labour made up 94% of all industrial work in the US.
Today, it constitutes just 8%.
Every person in the rich world today has access to 150 servants
Rich people still get 79% of their energy from fossil fuels.
To reduce carbon emission, the world would need 11 global shutdowns every year from 2030
Even if all OECD nations cut their entire CO2 emissions today, the standard climate UN model shows it'll reduce warming by 2100 just 0.4°C.
Six billion not-rich people, many of them in India
Unfortunately, climate policies harm the developing world.
If we aim for 2°C or 1.5°C, a recent peer-reviewed study shows it'll mean 80 million more poor and 180 million more starving by mid-century.
Now, rich countries want the world's poor to pay the costs through carbon tariffs.
The UK is pushing such tariffs as a key priority of its G7 presidency, and the proposal is falling on sympathetic ears in the US, Europe and Canada.
Energy costs + border tariff on imports
Such tariffs also make it harder for the developing world to compete
The EU and others believe that higher tariff threats will force countries like India and China to adopt their own costly climate policies.
For the rich world to cut 20% of its emissions, a standard model shows it'll cost them $310 billion a year.
Using carbon tariffs, the rich world can instead end up $400 billion better off, making $90 billion by forcing businesses to move back to the rich world.
It could lead to a tariff war and the developing world shaping their separate free trading regime.
The effective way to address the real problem of climate change is to dramatically ramp up investment into green energy research and development.
India and its partners need to force sense back into climate policy and insist on smart green innovation.
Heart Of Asia
S Jaishankar to attend the Heart of Asia meeting on Afghanistan
The primary reason for this is the Joe Biden administration finally revealing its intentions on Afghanistan this month.
First, in a letter to Afghan President Ashraf Ghani, US secretary of state Anthony Blinken proposed a transitional peace government for Afghanistan followed by national elections and a UN-led conference of India, Russia, China, Pakistan, Iran and the US to discuss a unified approach on Afghanistan.
Second, a draft peace agreement from Washington proposes that the said transitional Afghan government include Taliban while setting out guiding principles for a new Afghan constitution.
After years of sitting on the margins, India has now been formally included in the Afghan peace process as a crucial regional player
India's substantial development projects in Afghanistan
The goodwill New Delhi enjoys among Afghans
But it's also clear that the future of Afghanistan will certainly include Taliban in some shape and form.
Which is why India should reach out to those moderate sections of the Islamist group that are willing to work with it.
This is New Delhi's chance to seriously contribute towards peace in Afghanistan, protect its legitimate interests there and neutralise Pakistan's strategy of using Afghanistan as strategic depth against India.
What could be driving Mumbai's COVID surge?
Mumbai has recently seen a sharp rise in COVID-19 cases, recording on average 5,500 new cases every day over the past week. The weekly total is, by far, the highest the city has ever seen.
Such speeds were last seen in April 2020.
What makes the current situation remarkable is that it comes when so many people have already had the disease.
Mumbai's surveys, taken together with case and fatality data, suggest that at least half the population — quite likely more — has been infected at some point.
If a sufficient fraction of the population is immune, outbreaks naturally die out — at this point the population has reached 'herd immunity'.
Mumbai's current outbreak has grown more rapidly than basic calculations would suggest possible.
Could it be that a SARS-CoV-2 variant which is more transmissible – which spreads from person to person more easily – is circulating in the city?
Hopefully increased genome sequencing will soon shed more light on their role in Mumbai.
So, it is some relief that daily recorded COVID-19 deaths in the city remain well below values during previous waves.
In summary, it seems likely that multiple factors, including uneven spread and opening up of the city, are playing a part in Mumbai's latest COVID-19 surge.
The extent to which new variants are circulating, and reinfections occurring, needs to be investigated urgently.
FINANCIAL NEWS
Lenders Want Compensation for Interest Loss

The Indian Banks' Association (IBA) has requested the government to compensate lenders for their income loss because of last week's Supreme Court order, which prevented them from levying compound interest on loans for the moratorium period.
The request was made in a letter sent to the finance ministry.
The government has already reimbursed banks for forgoing compound interest, or interest on interest, on loans up to ₹2 crore outstanding during March-August last year, when borrowers had the option to seek moratorium on repayments.
The Supreme Court in its order last week directed the government and the RBI to waive penal interest charges on all loans, while rejecting the demand of borrowers to extend the repayment moratorium beyond August 31 and for a complete interest waiver.
The loan moratorium scheme was aimed at giving temporary relief to borrowers.
In November last, the government decided to waive interest-oninterest for borrowers below loan exposure of ₹2 crore. It paid nearly ₹6,000 crore to lenders to compensate them for the income loss.

India, US Agree to Revamp Strategic Energy Partnership

India and the US have agreed to revamp their strategic energy partnership to focus on greater collaboration in cleaner energy sectors such as biofuels, and hydrogen production
The statement was issued after a virtual meeting of Indian oil minister Dharmendra Pradhan and US energy secretary Jennifer Granholm.
The two countries will intensify efforts to take advantage of advanced US technologies and India's rapidly growing energy market, it said.
The US overtook Saudi Arabia as India's second-biggest oil supplier after Iraq last month.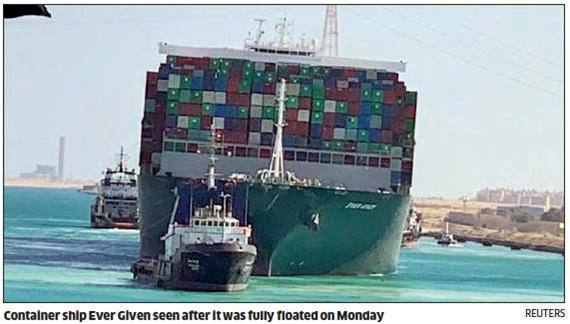 NEWS
Campaigning for 2nd phase of assembly elections in West Bengal & Assam to end today; polling on Thursday
PM Modi to address rallies in Kerala, Tamil Nadu and Puducherry today
Over six crore five lakh doses of Covid-19 vaccine administered in country
WHO to release report on origins of COVID-19 today
Jal Jeevan Mission achieves new milestone of providing tap water to over 4 crore rural households
EAM S Jaishankar to attend 9th Ministerial Conference of 'Heart of Asia - Istanbul Process on Afghanistan' in Tajikistan today
Registration of pilgrims for Amarnath Yatra begins on 1st April 2021
India, US agree to revamp Strategic Energy Partnership
President Kovind prorogues fifth session of 17th Lok Sabha
PM Modi unveils new version of 'Exam Warriors' to make them stress free before examinations
Traffic resumes in Suez Canal after stranded cargo ship fully refloated
US suspends all trade engagement with Myanmar until elected government returns
Fiji, Zimbabwe, Niger & Paraguay receive Made in India Covid-19 vaccines
Nepal govt decides to close all educational institutions till Friday amid degrading air quality
Mozambique: Dozens died in militant attack on Palma town.