Haryana and Tamil Nadu
2008
Kerala
Q.) Name the president of Inter-Parliamentary Union
Saber Hussain Chowdhary
Gabriela Cuevas Barron
Abdelwahad Radi
Duarte Pacheco
Q.) Recently, a nominated member of Rajya Sabha resigned as MP. Who is this person?
Swapan Dasgupta
Locket Chatterjee
Abir Biswas
Sovan Chatterjee
Q.)Which position in the Prime Minister's office did P.K. Sinha, a former Cabinet Secretary, resign from?
Principal Advisor
Principal Secretary
National Security Advisor
Private Secretary
Aligning a missile deal with destination Manila
India and the Philippines signed the "Implementing Arrangement" for "procurement of defense material and equipment procurement".
Export of the BrahMos cruise missile
Research and development of the BrahMos cruise missile systems began in the late 1990s.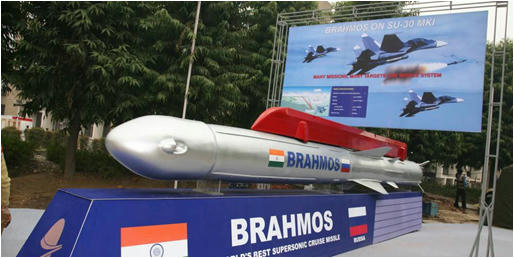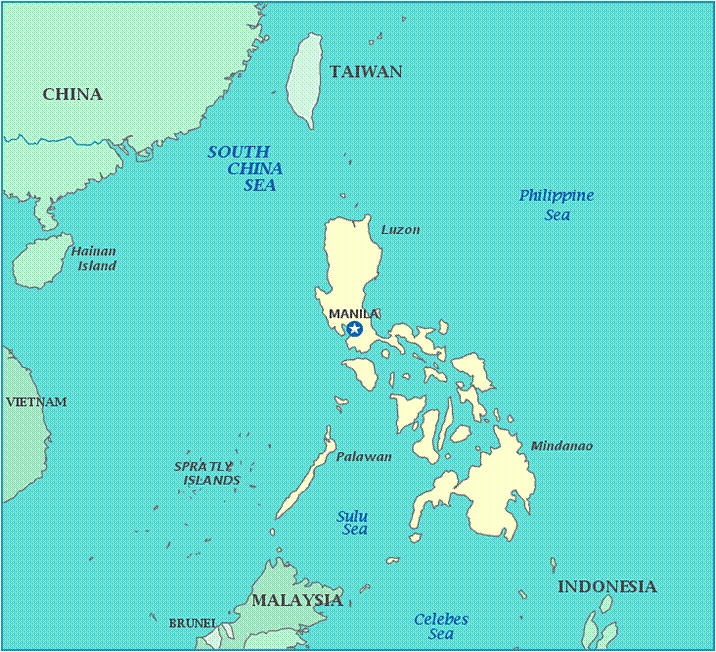 This is the first supersonic cruise missile to enter service.
Capable of attaining a speed of Mach 2.8 (almost three times the speed of sound), it has a range of at least 290 km (a new version can reach up to 400km).
Navy in 2005, Army in 2007, Air Force in 2017
Highly desirable product for other countries to procure
Countries such as Vietnam, the Philippines, Indonesia, the United Arab Emirates, Argentina, Brazil, and South Africa have so far shown an interest in acquiring the systems.
The implications of the Philippines becoming the first country to import the BrahMos would be wide-ranging and consequential in the Indo-Pacific.
A regiment of the BrahMos, including a mobile command post, four missile-launcher vehicles, several missile carriers, and 90 missiles, reportedly costs around $275.77 million (₹2,000 crore).
Ravaged by the COVID-19 pandemic, many countries which are interested in the BrahMos would find it difficult to purchase it.
Allaying concerns
Bloomberg Vaccine Tracker: A little over 392 million doses of vaccine have been administered globally
India accounting for around 9% of them
Europe - blood clots cases – many European countries announcing a temporary halt to their vaccination programmes involving the AstraZeneca (AZ) vaccine.
WHO + European Medicines Agency: no causal link between vaccines and the occurrence of such clots
These organisations advocate that the ongoing vaccination drives continue, even accelerate, as the rate of vaccination is not keeping pace with what is required to control the pandemic.
India has a long experience with vaccinations as well as expertise in evaluating risk; however, transparency and prompt data sharing, thereby building public trust, is not one of its strong suits.
This was evidenced by the approval of vaccines in spite of scant efficacy data.
There is almost no information by the National Committee on Adverse Events Following Immunisation on the nature of serious adverse events following immunisation.
This is in contrast to the frequent analyses shared by organisations such as the U.S. Centers for Disease Control and Prevention on adverse events.
Public trust is a key ingredient to successful vaccination programmes and this can be only earned by the government's zealous attention to allaying concerns.
Pulling India's democracy back from the brink
The vast majority of governments that have ever existed have enjoyed essentially unfettered power over their subjects.
The first institutional check on sovereign power is arguably the establishment of the English Parliament in what British historians term the Glorious Revolution.
But for the non-Lords of the British Isles, precious little changed.
That was the late 1600s, and while the French and American Revolutions of a century later spawned political theory of the highest order proclaiming the inalienable freedoms of all men created equal, the truth is that the era of colonialism, and continued exclusion of women, as well as racial and religious minorities, meant that it was not until the mid-1950s that the revolution only dreamt about for millennia before became reality.
Finally, leaders were expected to return periodically to face the judgement of the governed through universal suffrage elections, and their power in office was constrained by a constitution whose guardian was an independent judiciary, and whose actions were scrutinised and made public by an empowered press charged with a sacred responsibility to speak truth to power on behalf of the powerless.
What the democratic triumphalists failed to anticipate was that elections, while vital to the exercise of democracy, are just one leg of the governance stool.
The strength and independence of the other public institutions of the state whose fealty was to the Constitution rather than any elected government
The vibrancy and vitality of the press
Freedom House (based in Washington DC) and the Varieties of Democracy project (V-DEM, based in Gothenburg, Sweden) are two of the more well-regarded efforts to conceptualise and measure the state of democracy globally each year.
Their methodologies and indicators are transparently public, and the data sets they provide are widely analysed by researchers worldwide.
Their methods have been repeatedly peer-reviewed and validated by thousands of studies that establish a very high degree of correlation with other academic efforts to measure democracy.
India's External Affairs Minister S. Jaishankar dismissed these ratings as irrelevant certificates issued by self-appointed arbiters in the West for which India had little use.
Some certificates are more useful than others.
India's democratic credentials are intrinsic to its identity and its greatest source of legitimacy internationally.
The suggestion that these credentials have been tarnished merits a serious, thoughtful, and respectful response, rather than a clever quip that plays to one's preferred gallery but does nothing to assuage one's critics.
Institutional independence is a hard-won resource to be husbanded and invested wisely by their custodians.
Strong democracy requires a strong Opposition
Be Rational, Please | ToI
Spiking Covid infections across multiple states have raised fears that this could be the onset of a 2nd wave in India.
Central officials have asserted that Maharashtra's second wave is on.
Others like Punjab, MP, Karnataka, TN, Bengal and Kerala are also reporting an uncomfortably high number of cases.
A number of Maharashtra districts have opted for lockdowns while night curfew has been clamped in Bhopal, Indore, Ahmedabad, Vadodara, Surat, Rajkot, and parts of Punjab and Uttarakhand.
No one can make the case that a lockdown prompts people to be more public health conscious or the coronavirus spreads predominantly in the night hours or social distancing goes particularly awry then.
What's more baffling is the scant official campaigning on the safe, viable, inexpensive option of universal masking.
Or vaccines for that matter, given that they're finally here and supply is no constraint.
Inter-state travel restrictions are also fast cropping up.
MP has ordered seven-day quarantine for visitors from Maharashtra.
Mamata Banerjee and JP Nadda in Bengal, are spotted unmasked in potentially super spreader election campaigns.
Like the warped signalling on masks, the failure to combat misinformation on vaccines and ramp up vaccinations could also prove costly.
India has a long way to go having vaccinated just 2% of the country, with vaccine hesitancy being observed across age groups and social classes.
People of all age groups taking vaccines will act as a nudge for everyone to come forward.
A country that has exported 6 crore vaccine doses shouldn't have to return to the lockdown mentality of last year, when options were fewer and understanding of the disease was limited.
Liberalise vaccine supply and delivery, improve advocacy on masks.
FINANCIAL NEWS
Private Sector DFIs may Get 5-Year Tax Holiday

The government will provide a five-year income tax holiday to private sector development finance institutions (DFIs) to build a robust system for funding infrastructure.
They will join a state-owned DFI that's being set up.
The government will move an amendment to the income tax act to provide for the tax holiday when the Finance Bill is taken up for passage in Parliament
The cabinet on Tuesday approved the National Bank for Financing Infrastructure and Development (NaBFID) — the state-run DFI proposed in the budget and a bill for the creation of government owned as well as private DFIs.
The DFI bill will soon be introduced in Parliament State-owned NaBFID will enjoy a 10-year income tax holiday and receive a ₹5,000 crore grant in lieu of tax-free bonds to neutralise the higher cost of funds, finance minister Nirmala Sitharaman had said.
Certain asset transfers to DFIs will also get stamp duty relief
DFIs set up in the private space in the 1990s were converted into scheduled commercial banks as they struggled with the challenges of the long-term infrastructure financing.
The state-owned DFI will also support credit enhancement mechanisms, provide project development and monitoring, and help develop the bond market, thereby nurturing the overall infrastructure financing ecosystem.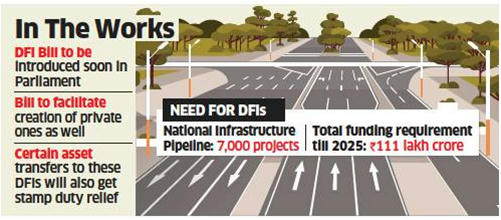 NEWS
PM Modi stresses on taking decisive steps to stem nationwide spread of COVID-19
Electioneering gains momentum in poll bound states
Supply of vaccines abroad under Vaccine Maitri is on assessment of adequate domestic availability, Govt informs parliament
520 Kashmiri Migrants returned to the valley after abrogation of Article 370: G Kishan Reddy
Italy joins International Solar Alliance under the amended ISA Framework Agreement
Redevelopment of railway stations across country is priority agenda of Railways Ministry: Piyush Goyal
Health Minister Dr Harsh Vardhan appointed as Chairman of international body Stop TB Partnership Board
Nitin Gadkari to make statement regarding 'Vehicles Scrapping Policy' in both Houses of Parliament
BJP CEC meeting held to finalize candidates for last four phases of West Bengal Polls
Cumulative number of COVID-19 vaccine doses administered in country crosses 3.64 crore
Tanzanian President John Magufuli passes away following heart ailment
WHO, European Medicines Agency looking into AstraZeneca vaccine issue