CA Bhavani Devi
SIG-716
Sri Lanka
Q.) Recently, Rajya Sabha passed the National Institutes of Food Technology Entrepreneurship and Management Bill, 2019, that confers the status of national importance on two food technology institutes in which 2 States?
Gujarat and Goa
Odisha and J&K
Haryana and Tamil Nadu
Manipur and Sikkim
Q.) In which year did Balta House encounter happen?
2008
2009
2010
2011
Q.) _________ High Court directed Centre and National Cadet Corps to amend the enrolment criteria under Section 6 of the NCC Act and include transgender persons for enrolment?
Gujarat
Kerala
Delhi
Bombay
A robust economic relationship
A closer economic partnership would bring gains to both sides in terms of GDP, employment, and productivity, given the complementary natures of their economies.
Bilateral trade in goods and services to the desired goal of $500 billion
In the five years to 2019, bilateral trade grew at a CAGR of 7.7% per year to $146 billion.
A collaborative response to the pandemic would contribute to global containment of the virus.
The macro trade architecture can be strengthened with a broad trade agreement focusing on resolving the low-hanging fruit.
Mobility of professional labour would aid trade in services.
Defence industry ties can be stepped up in coordination with industry, as both sides benefit from U.S. technology and Indian manufacturing in this sector.
Engagement of small and medium enterprises (SMEs) can be stepped up.
Clean energy and climate change, high priorities of the U.S. administration, are also areas where India has made rapid strides.
A digital economy partnership is critical.
Other opportunities in the bilateral economic relationship include education, innovation and R&D, and agricultural trade and technology.
A battle in the same vein
Tamil Nadu Assembly election on April 6
AIADMK and DMK thrown in offers of an unusually large number of freebies.
The DMK, apart from making, in the run-up to its manifesto release, an offer of ₹1,000 a month to the woman-head of every family, has promised ₹4,000 to each pandemic-hit ration cardholder (around two crores totally); a subsidy of ₹100 per cooking gas cylinder and a reduction in petrol and diesel prices.
The AIADMK's assurances include ₹1,500 a month to the woman-head of each family, six cooking gas cylinders annually, a washing machine and solar-powered cook stove and a 50% subsidy in city bus fares for women.
What about the prevalence of anaemia among women and children is 55% and 50.7%, against the national average of 53.1% and 58.6%?
Responsible AI — the need for ethical guard rails
Artificial intelligence (AI), the engine of the Fourth Industrial Revolution, is already very much with us.
The more we use AI, the more data we generate, the smarter it gets.
Automation, big data and algorithms will continue to sweep into new corners of our lives until we no longer remember how things were "before".
Just as electricity allowed us to tame time, enabling us to radically alter virtually every aspect of existence, AI can leapfrog us toward eradicating hunger, poverty and disease — opening up new and hitherto unimaginable pathways for climate change mitigation, education and scientific discovery.
Already, AI has helped increase crop yields raised business productivity, improved access to credit and made cancer detection faster and more precise.
It could contribute more than $15 trillion to the world economy by 2030 adding 14% to global GDP.
Google has identified over 2,600 use cases of "AI for good" worldwide
A study published in Nature reviewing the impact of AI on the Sustainable Development Goals (SDGs) finds that AI may act as an enabler on 134 — or 79% — of all SDG targets.
AI requires massive computational capacity, which means more power-hungry data centres — and a big carbon footprint
AI also presents serious data privacy concerns.
In a world where the algorithm is king, it behoves us to remember that it is still humans — with all our biases and prejudices, conscious and unconscious — who are responsible for it.
Without clear policies on reskilling workers, the promise of new opportunities will in fact create serious new inequalities.
Investment is likely to shift to countries where AI-related work is already established widening gaps among and within countries.
Today, it is no exaggeration to say that with all the discrete bytes of information floating about us online, the algorithms know us better than we know ourselves.
Given the global reach of AI, such a "whole of society" approach must rest on a "whole of world" approach.
Agreeing on common guiding principles is an important first step, but it is not the most challenging part.
It is in the application of the principles that the rubber hits the road.
CBI is an outfit which has its strong points such as talented and dedicated supervisors with a sound knowledge of the law and of unquestioned integrity.
The CBI's performance in recent times has been a mixed bag, with its moments of glory alongside its moments of shame.
Extradition of accused persons who have fled India is the toughest task before the CBI.
In discussing the Nirav Modi case, my mind goes back to the Bofors gun case of the 1980s-90s where an enterprising wheeler dealer, Ottavio Quattrocchi, (said to be close to a political family in India) was allowed to escape from India with the then government's connivance, and later helped by influential persons in Delhi circles.
He was never brought back to face trial in India despite overwhelming evidence against him.
Nirav Modi was able to get the help of two former Indian judges (one of who was a former Supreme Court judge) to exploit the alleged loopholes in the prosecution story. However, this ploy did not succeed.

Offence alleged against him was not in the statutes of the country where he is living
Political considerations had weighed in the mind of the requesting country in demanding extradition
Did not fulfil human rights requirements

The London judge rejected all three contentions put forward by Mr. Modi's counsel, and this reflected the thoroughness with which the CBI had done its job.
This is part of the huge number of travails that the prosecution faces in pinning down the guilty.
In all such matters, another instrument of torture for the prosecution is the so-called Letter Rogatory (LR), which the relevant court in India will have to issue to the corresponding court abroad to get hold of documents or examining witnesses in the countries involved.
What is involved here is a laborious process of identifying documents that are required to prove a case and to explore where exactly they are lodged or hidden.
FINANCIAL NEWS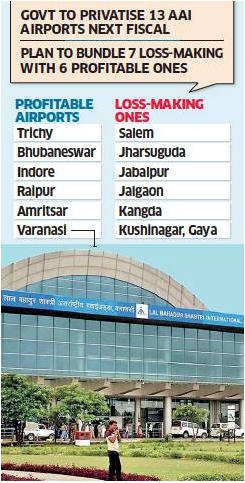 Govt to Bundle Loss-making, Profitable Airports for Sale

Companies looking to participate in the next airport privatisation round will have to bid for loss-making facilities along with profit-making ones.
A decision in this regard was taken at a meeting of the core group of secretaries for asset monetisation (CGAM) held last month
On offer will be construction, operation and management for a period of 50 years.
The winning bid will be decided on the basis of the highest fee per passenger.
The central government has set a target of ₹ 2.5 lakh crore from the sale of assets under various ministries.

Filtering Resumes But No Block on Messages

Content scrubbing, or filtering, refers to verifying SMS content using pre-registered templates.
The Telecom Regulatory Authority of India (Trai) has directed operators to resume filtering SMSes from March 17 as per existing rules to curb pesky messages, but restrained them from blocking any traffic that fails to comply with the header and content checks.
The move comes as a breather for the industry, which was bracing for another round of SMS outages as the filters were supposed to be activated again on Wednesday after Trai's seven-day deadline ended.
The activation of the filtering mechanism on March 8 had led to about 400 million SMSes not being delivered, including critical OTPs from banks and other services.

DPIIT Likely to Release New Draft of Ecommerce Policy This Month

The Department for Promotion of Industry and Internal Trade (DPIIT)
The DPIIT is trying to iron out differences among ministries on setting up of an ecommerce regulator and its reach as some ministries have suggested that the Central Consumer Protection Authority under the consumer affairs ministry take up the role.
While the previous draft in July last year had proposed a regulator, an ecommerce law, periodic audit of companies that store or mirror Indian users' data overseas and make available any data the government seeks within 72 hours or pay a penalty, the latest draft calls for streamlining of regulatory processes to ease the burden of compliance for activities related to ecommerce and regulations for data that will provide for sharing mechanism.
In the earlier draft, the department had proposed to set up a regulator for the sector and a law to restrict the information that firms can store, use, transfer, process and analyse and had provided for regulations on issues such as security, law and order, law enforcement, taxation and safety of individuals to enable the government to have speedy access to data flowing through ecommerce platforms that operate in the country.
"A regulator is required to maintain a level playing field and check the influence of monopolistic tendencies so as to protect small retailers especially because the world is going that way," said an expert on ecommerce issues, adding that the European Union has unveiled the Digital Markets Act to provide additional regulation of digital markets especially of very large online platforms.
At present, different laws and regulations such as Income Tax Act, Consumer Protection Act, Information Technology Act, Foreign Exchange Management Act, Competition Act, and Payment and Settlement Systems Act govern ecommerce activities in India
NEWS
Cabinet clears bill to set up DFI with initial capital of Rs 20,000 cr
PK Sinha Steps Down as Principal Advisor to PM
FM N Sitharaman says all banks not to be privatised; assures to protect interest of employees and staff
Eastern and Western Dedicated Freight Corridors to be operational in 2022
Parliament passes Bill providing outer limit of 24 weeks for Medical Termination of Pregnancy
Campaigning gains momentum in poll bound States; notification for 4rth phase of Assembly polls in WB issued
EC to use VVPAT at all Polling Stations in upcoming assembly polls
Centre continuously engaging with RBI to ensure that no regulatory mishaps occur in future: FM Nirmala Sitharaman
Govt fully geared up to check inflation & tackle any situation of shortfall in farm produce: Anurag Thakur
Export of Covid-19 vaccines to other countries not being done at expense of Indian citizens: Dr Harsh Vardhan
Govt leaving no stone unturned in India's fight against COVID-19: Javadekar
China's new rule on visa facilitation of no help for Indians
US Senate confirms Deb Haaland as Secretary of Interior
China wants WHO approved vaccines to apply for approval as debate over "vaccine passport" rages
Chinese capital faces largest sandstorm in a decade