NEWS
Very severe cyclonic storm 'Tauktae' to further intensify during next 24 hours
Cyclone Tauktae: Amit Shah reviews preparedness with CMs of Maharashtra, Gujarat, Daman-Diu administrator
Rajnath Singh to release first batch of Anti COVID drug 2DG today
Bharat Biotech's Covaxin effective against Coronavirus strains found in India and UK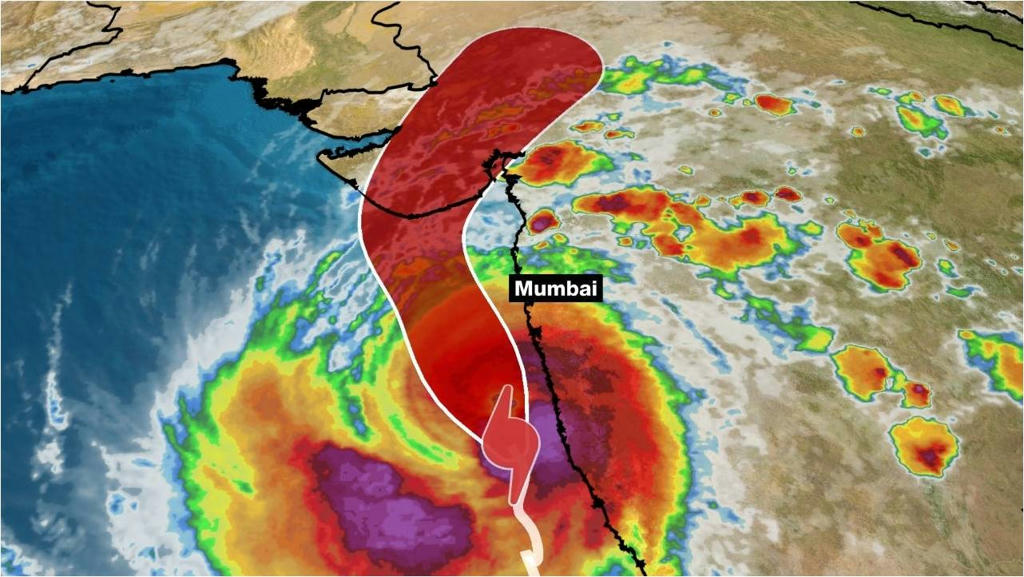 Delhi to remain under strict lockdown till May 24 to contain spread of COVID-19
India's cumulative COVID-19 vaccination coverage exceeds 18 crore 22 lakh doses
Centre directs States to prevent dumping of dead bodies in Ganga river and ensure dignified cremation
Over 9,400 Metric Tonne of Liquid Oxygen delivered by Railways so far across country
Online appointments for 2nd Dose of Covishield will be given only after 84 days: Govt
Govt asks people not to share pictures and contact detail of vulnerable children in distress situation in social media
UN Secretary-General calls for immediate end to fighting between Israelis & Palestinians
India urges both Israel and Palestinian sides to show extreme restraint, calls for immediate de-escalation
Thousands returning to Dhaka after Eid, DGHS urges people to delay
30 sentenced to death over anti-police clashes in DR Congo
Rafael Nadal beat Novak Djokovic to win Italian Open title
FINANCIAL NEWS
Growth Worries Weigh on India's Sovereign Rating

India's investment grade sovereign rating could face pressure due to rising headwinds against growth as the country battles the second Covid wave, which may exacerbate the country's high debt and fiscal stress and increase financial sector risks, global rating agencies said.

India to Seek US Support on Global Patent Waivers for More Covid Gear

While the US has supported the waiver only for vaccines – after having opposed the main proposal since last October – most developing countries favour the inclusion of vaccines, treatments, diagnostic kits, protective gear, ventilators and therapeutics.

Uncertainty over Auction of mmWaves Could Hit 5G Trials

India's much-delayed 5G trials could hit a fresh snag, with Bharti Airtel, Reliance Jio and Vodafone Idea (Vi) saying they don't have any clarity on whether the coveted millimetre wave bands (26 GHz and 28 GHz)—allotted for trials — will be auctioned in the next spectrum sale.
Act West, Think East | ToI
India's foreign policy pivoted westwards
The Quad summit was a seal on the India-US relationship, and a determined statement of how India sees its future with China.
Crafting a post-Brexit relationship with the UK and putting its shoulder to the wheel of the India-Europe relationship.
The enhanced trade partnership between India and the UK will start with market access to CBMs before graduating to an FTA.
With the EU, the two sides have to pick up the threads from 2013.
The prep for an international agreement is at home.
The UK deal is likely to be much faster because of vested interests on both sides.
India's western pivot has been a long while coming.
PM Modi's interest in things like clean water, sanitation, smart cities naturally gravitated interest towards European countries that had solutions on tap.
France has become India's go-to partner in Europe, cutting across sectors such as defence, strategic, nuclear and multilateral spheres, to the extent that it can almost replace Russia.
The Nordics are India favourites in areas like smart cities, 5G, AI and semiconductors.
The West – US and Europe collectively – was instrumental in the growth of China.
Repair sarkar | ToI
The massive second Covid wave lays bare how authorities are often unable to effectively marshal even those resources available to them.
Before the pandemic, India just had 40,000 ventilators and Centre's sourcing of nearly 50,000 ventilators to states in short time was an impressive feat.
Many ventilators are dysfunctional: 80% of 2,025 ventilators unused in Karnataka, 47/109 in Bihar, 285/320 in Punjab, and 1,400/1,900 in Rajasthan.
Excuses like lack of trained staff, shortage of medical consumables, and fear of malfunction were cited for failure to operationalise ventilators.
Also take Goa, ranking highest in per capita GDP, yet failing to iron out oxygen supply problems at just one hospital right under the government's nose – leading to several avoidable deaths over days.
Meanwhile, the chief minister and health minister have appeared to work at cross purposes.
With the Covid wave shifting to rural areas, Centre and states are belatedly scrambling to provide testing and oxygen facilities to villages.
What was feared in last year's migrant labour exodus is happening now, but nobody is being held accountable for the months lost in scaling up rural healthcare facilities.
Wasted ventilators and oxygen supply glitches would seem metaphors of governance itself in ICU.
Policing those criticising these failures is the wrong instinct.
Many shocking media reports of government hospitals crumbling under Covid caseloads expose the inadequacy of top-down governance.
Few states have attempted a meaningful decentralisation of powers and funds or encouraged MPs, MLAs and panchayat members to collaborate with state capitals and the district administration to resolve local needs.
With PM Modi proposing audits and encouraging states to honestly depict their actual Covid situations, sharp and fast appraisal of institutional deficits must follow to correct cumulative and contemporary failings.
Audits are really valuable when they are constructive.
The road from Ladakh is paved with disruptions
It has been a year since the news of tensions between Indian and Chinese troops on the Line of Actual Control (LAC) in Ladakh first broke.
As has been evident from commercial satellite imagery, sparse official statements and a few interviews, the crisis eventually involved seven places: Depsang plains, Galwan, Gogra, Hot Springs, North bank of Pangong Tso, Kailash range and Demchok.
The situation at Galwan was resolved a few weeks after the deadly clash, and the two sides disengaged from the face-off site.
The Indian Army had occupied certain heights on the Kailash range in end-August, where it was in an eyeball-to-eyeball confrontation with the Chinese.
In February this year, the two sides agreed to disengage from this location and from the north bank of Pangong Tso.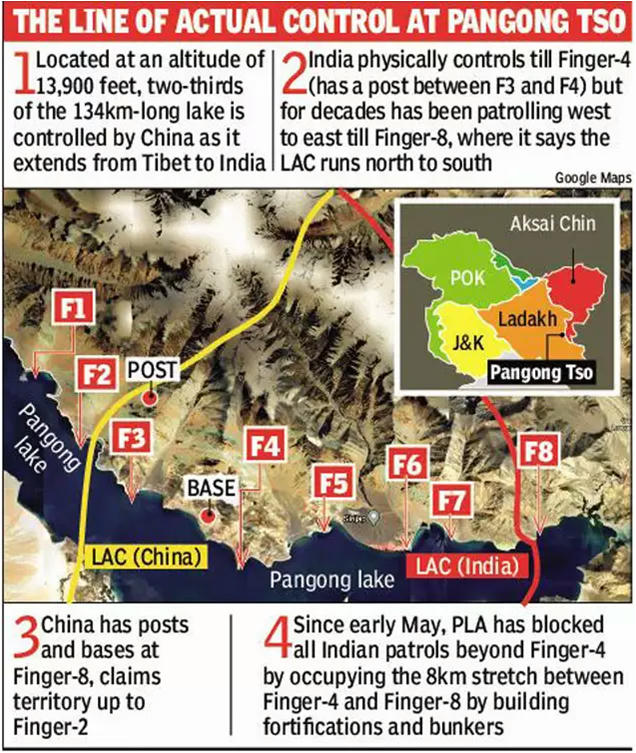 This was announced by India's Defence Minister in Parliament, where he also said that the two armies will convene the next meeting of the senior commanders within 48 hours after the complete disengagement in the Pangong lake area "to address and resolve all other remaining issues".
The last such meeting of commanders was held on April 9, but the Chinese have refused to even discuss the remaining issues.
Such an outcome was not entirely unexpected.
India had lost its only leverage on the Kailash range for the sake of disengagement on the north bank.
It was also clear that by restricting itself to its own side of the LAC on the Kailash range, India had not taken control of the more dominating peaks like the Black Top and had a weak hand to play with.
With the PLA troops denying India access to territories it controlled by patrolling, the government's avowed aim of restoring the status quo ante as of April 2020 remains unfulfilled.
Even on the north bank of Pangong, a new status quo has been created where the patrolling rights are yet to be restored.
Similarly, the Kailash range has seen neither de-escalation nor de-induction so far.
New Delhi was also the lynchpin of the Quad's pledge to deliver a billion doses of COVID-19 vaccine throughout the Indo-Pacific by the end of 2022.
The abysmal failure of the Modi government to anticipate and deal with a public health crisis has diminished India's aura as an emergent power.
The back channel talks, facilitated by the United Arab Emirates, led to the announcement of the ceasefire on the Line of Control which has held so far.
An assertive China and a vengeful Pakistan acting in concert on the land borders is India's military nightmare, which New Delhi will have to avoid at all costs.
China's President Xi Jinping sent a message to Modi to convey sympathy and express condolences over the pandemic, which was the first communication between the two since the border crisis began last year.
The Chinese Foreign Minister spoke to his Indian counterpart twice and offered help to deal with the pandemic, which led to an early clearance and approval of cargo flights from China.
As the talks between India and China have floundered, New Delhi has taken a position that the border issue is central to the bilateral relationship.
This runs contrary to Beijing's argument that the boundary question cannot be seen as the whole of the bilateral relationship.
With soldiers of both armies facing each other in Ladakh and a lack of trust between the two countries as the two governments talk past each other in a period of geopolitical churn, it is clear that the China-India bilateral relationship is moving into a zone of increasing disruptions, and attendant risks of conflagration on the disputed border.
Using all options
Universal and swift vaccination is the only way
But with only 3% and 4% of the total population estimated to have taken the second and a single dose, respectively, the goal of vaccinating a substantial number of people to achieve immunity against SARS-CoV-2 and its variants, remains a tall order for India.
Supply constraints in delivering the only two vaccines available to Indians so far are one of the reasons why the pace of vaccination has fallen.
India has rightly sought (along with South Africa) a temporary waiver of provisions in the TRIPS Agreement to facilitate universal access to COVID-19 vaccines.
In fact, the Centre's submission to the Supreme Court that the "exercise of statutory powers... under the Patents Act, 1970... can only prove to be counter-productive at this stage", is clearly contradictory to its international position for a temporary waiver in the TRIPS Agreement.
As of now, two central PSUs, Indian Immunologicals Ltd and BIBCOL, have already entered into a technology transfer agreement with Bharat Biotech, besides the Haffkine Bio-pharmaceutical Corporation based in Mumbai.
Other manufacturers can also re-purpose their plants to produce the vaccine.
ANS
Nerkh
Karnataka and Maharashtra
MCQs
Q.) Name the newly discovered skink species in Western Ghats – only the third skink species discovered from mainland India in the las millennium.
Subdoluseps nilgiriensis
Corucia zebrata
Eumeces skiltonianus
Tiliqua zebrata
Q.) Name the nations, other than China, who have previoulsy carried out a successful landing on Mars?
Soviet Union, Germany
USA, Germany
India, USA
Soviet Union, USA
Q.) Hamas was established in the year ______ after the first intifada broke out.
1988
1987
2007
1997